Entergy Mississippi is helping contractors build better homes with the help of up to $3,025 in incentives on energy-saving products and services.
It pays to build energy-efficient homes. Qualifying homes offer home buyers energy and financial savings from the start – a benefit important to today's homebuyers. Homes that are more energy efficient than standard-built homes give homebuilders an edge in a competitive selling market.
The Residential New Construction Program is a new initiative open to residential contractors in Mississippi that offers incentives on a wide variety energy-saving products and services when new homes are being built. Up to $3,025 in incentives per home can be claimed. 
Incentives Available
Incentives available to pre-qualified residential contractors through the Entergy Mississippi Residential New Construction Program are offered on a wide variety of energy-saving measures. 
Single Family and Multifamily Homes  
HVAC Equipment – Up to $1,100 per home
As much as half of the energy used in homes today goes to heating and air conditioning. Installing ENERGY STAR® certified equipment improves comfort, reduces energy use and provides lasting energy savings for homeowners.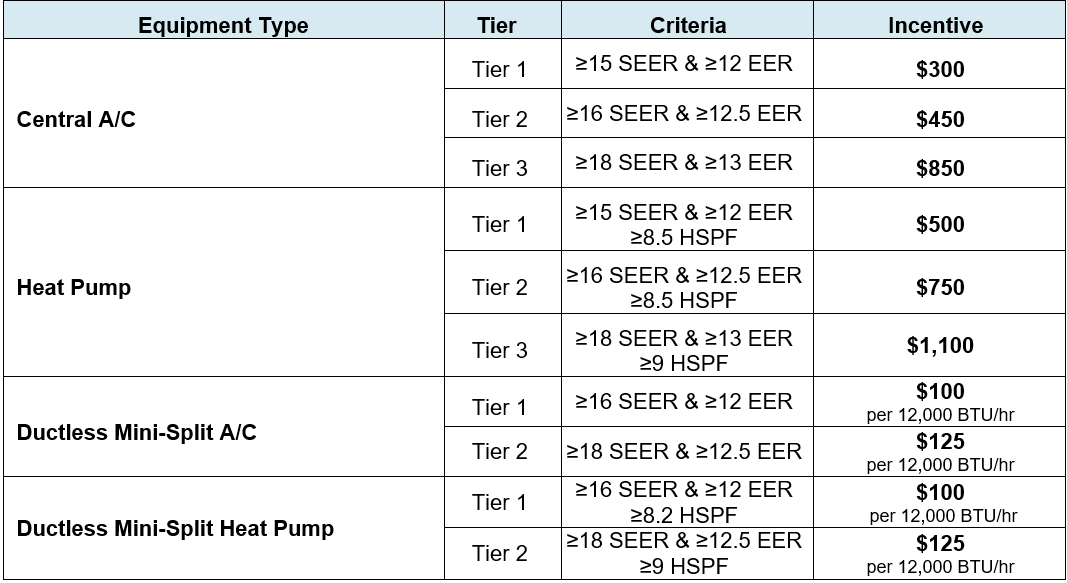 ENERGY STAR Certified Appliances – Up to $1,025 per home
ENERGY STAR certified appliances can save homeowners up to 30% on energy costs.
Clothes Dryer

ENERGY STAR certified clothes dryers use approximately 20% less energy than conventional models without sacrificing features or performance. Plus, innovative energy-saving technologies such as moisture sensors help you save up to $210 in energy over its lifespan. 

Click here to view eligible models.

Up to $75

Clothes Washer

ENERGY STAR certified clothes washers use approximately 25% less energy and 45% less water than conventional washers, saving up to $550 in energy and water over their lifespan. 

Click here to view eligible models.

Up to $75

Refrigerator

Refrigerators consume the most energy out of all kitchen appliances in a traditional household. An old refrigerator uses approximately 35% more energy than a new ENERGY STAR refrigerator. 

Click here to view eligible models.

Up to $50

Heat Pump Water Heater

Water heaters are the second highest source of energy usage in an average American home. ENERGY STAR heat pump water heaters can save a typical household of four up to $330 per year on their Entergy bill compared to a standard electric water heater. Larger families can save even more.  

Click here to view eligible models.

Up to $750

Smart Thermostat

ENERGY STAR smart thermostats deliver optimal energy savings and home comfort at the same time.

Click here to view eligible models. 

Up to $75
Single Family Homes Only

Incentive
Per Home

LED Lighting

ENERGY STAR certified LEDs last 13+ years and use 90% less energy than standard bulbs. 

Up to $100
when >90% of home has qualifying LEDs

Manual-D Duct Design

Manual-D design ensures efficient and effective duct design providing optimum energy efficiency. 

Up to $150

Duct Sealing

In a typical home, about 20% of the air that moves through the duct system is lost due to leaks, holes and poorly connected ducts. Duct sealing reduces air escaping through leaky, poorly insulated or inefficient ducts increasing comfort and reducing energy costs. 

Up to $250

With <10% leakage

Ceiling Insulation

Proper ceiling insulation helps reduce energy costs by keeping interior temperatures warm in the winter and cool in the summer. 

Up to $150
when >/= R38 is used

Electric Vehicle Charger Wiring

Pre-wiring garages for future installation of EV chargers adds to the environmental and cost savings benefits of owning electric vehicles.

Up to $250

240V wiring required.
Charger not included.
Get Started
Participating is easy. 
Contact the Entergy Mississippi Residential New Construction Program at emlnewhome@icf.com or 844-523-9980 to reserve your spot in the program.
Sign Participation Agreement.
Submit a preapproval application prior to installation.
Install preapproved qualifying incentivized measures to meet program requirements.
Contact program management to begin your incentives application.
Have an inspector visit the home and verify measures are within program standards.
Receive your incentive check.
Market and sell the home as an Entergy Mississippi Residential New Construction Program home. 
Click here to learn about our other energy efficiency programs.
Promotions and programs available for a limited time and while funds are available.
Source: energystar.gov